life's a beach
Busy, busy, busy. It's tough being a tourist in your own town!
I thought I'd slap up an entry since we're leaving this morning for a week on the lake in
Osoyoos
in south central B.C. I'll be completely offline until the 13th.
I just love being near the ocean again, and we've been taking advantage of the great weather. It's not nearly as hot as it was when we arrived, so sightseeing is a pleasure, even if I've seen most of the sights before.
Lighthouse Park
is about a 5 minute drive from my parents place. It gets its name from the
Point Atkinson Lighthouse
one of Vancouver's three lighthouses.
The park is 75-hectares (185 acres) and remains largely undisturbed, giving visitors a chance to experience the unique flora and fauna, such as the Arbutus, or Pacific Madrone, as it is sometimes known. The Arbutus (which grows right down to California) is Canada's only broad-leafed evergreen and has a lovely thin reddish bark which peels off in large pieces. Unfortunately a number of these trees are being attacked by a defoliating fungus at the moment and many have already died.
Some of the trails in the park lead to a magificent view of the Pacific Ocean.

Horseshoe Bay
was on the agenda this week as well. B.C. Ferries sail from the bay to Vancouver Island, Bowen Island, the Sunshine Coast and points beyond and it's a popular tourist spot in the summertime.
We also took a trip to the
Sunshine Coast
, only accessible by sea or air, to visit Mr. M's aunt and uncle who bought a house there last September. Due to serious organizational issues on their side, things didn't work out quite as planned and although we did end up seeing their house, we only saw
them
for about 20 minutes. We did however, get to enjoy the Sunshine Coast and visited
Gibsons Landing
, a charming seaside village, and Molly's Reach, made famous by the popular CBC series
The Beachcombers
.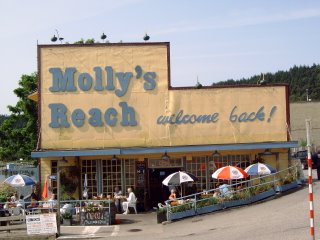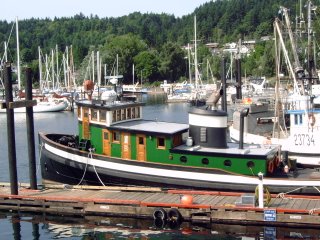 Much closer to home we've been enjoying the sunshine at Caulfield Beach, where I spent many a summer's day as a child.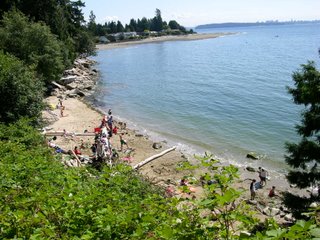 Don't worry, I'll be back!