party on, Wayne!
Mr M asked me to make him a mandarin orange cheesecake for his birthday yesterday.
The cake is now history but the celebrations continue. Boy13 had six of his best pals over today for movies and pizza.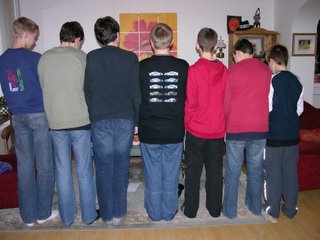 The usual suspects arranged in descending order
I made two large sheet cakes and three huge square pizzas and within minutes they had washed it all down with Coke and Fanta and were begging for more. Where do those boys put it all?
While they were eating they watched two of our favourite movies -
Wayne's World
and
Wayne's World 2
. Well, OK, there's no accounting for taste but our whole family enjoys both of these films. And I kind of have this thing for
Mike Myers
. I can't help it because 1) he's a brilliant comedian, 2) he's cute as a button, 3) he and I share a birthday - same day, same year, and 4) he's Canadian. Nuff said? Excellent.
"I think we'll go with a little 'Bohemian Rhapsody', gentlemen?"