these boots were made for walking
On Saturday we visited the
Mühlenfest
(windmill festival) and
Kartoffelfest
(potato festival) held in a neighbouring village. Since it was such a beautiful day, Mr. M, Boy9 and I decided to get some fresh air and go on foot (Boy12 had taken his ever popular self off to yet another birthday party). Following the paths along the edges of the fields that separate one town from another, it took us almost an hour to get there.
The little village of Benthe, current population 1,970, was first mentioned in historical writings in 1138 A.D. and is home to a beautiful old windmill, the focus of some of yesterday's festivities. Unfortunately the line-up for guided tours of the windmill was so long that we decided not to go up. Maybe next time.
The
Kartoffelfest
was held at the organic farm and market not far from the windmill. As well as having a huge selection of potatoes of all different varieties (we bought some blue ones to try!) they also offered cut flowers, fruit, vegetables, honey and cheese for sale. Guests enjoyed vegetarian potato chile, homemade cake and organic wines and juices.
For the kids there were pony rides and face painting and of course the wonderful farm animals. These two were my favourites: an enormous boar who really wasn't as sad as he looks in the picture and a gorgeous white billy goat with beautiful horns.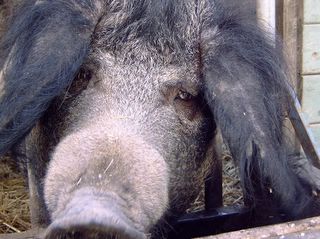 Mr. M and Boy9 were very interested in this 1937 BMW motorcycle.
After fortifying ourselves with a bratwurst or two, we headed on home again and spent the rest of the afternoon and evening recovering from our long hike.