recycling
We're having a lazy day puttering around in the garden. It's really too warm to do much of anything else but we're not complaining. Looks like summer is back with a vengeance.
Anyway, as the air cooled off a bit this afternoon I decided to put down my ice tea and pull a few weeds and came across an old friend, almost completely grown over with vines. One of Mr. M's hobbies (before he got old and complacent) was making good use of other people's rubbish by creating robots out of old tin cans. I can't even remember how long this little guy has been hiding out in the garden keeping an eye on things.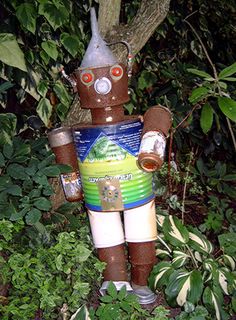 We call him "Rusty"!