say goodbye to summer
Mr. M was off to work again at 6:30 a.m. this morning but the rest of us slept in just one more time and enjoyed a "last day of summer holidays" pancake breakfast.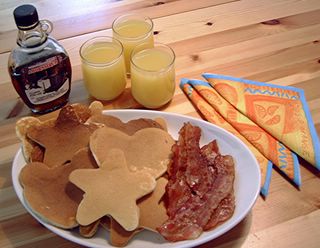 In a little while we're going downtown to see
Charlie and the Chocolate Factory
and when we come home, we'll be busy labeling all the shiny new school supplies. It's not going to be easy to get the little nippers (or myself, for that matter) to bed at a decent hour tonight after a summer of staying up late and enjoying our free time.