Grand Central Station
It's been a wild weekend of non-stop entertaining. No, not really, but we invited our good friends over for a barbeque on Friday night and then our neighbours from across the street came for a farewell dinner on Saturday. It took about 8 years to break the ice with them and now they move. Figures. They want us to come visit them some time and we may just take them up on it. They say Freiburg, where our neighbour found a new job after he was fired last year, is really beautiful.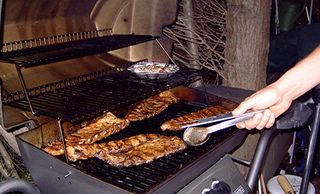 the GrillMeister at work (this was actually taken on Canada Day but I thought I'd throw it in here anyway)
As we all know, Boy12 is at summer camp having a wonderful time and probably forgetting to brush his teeth. Boy9 was invited to spend Saturday and Sunday with his Oma and Opa. This resulted in an almost unknown phenomenon in our house: the kid-free weekend. So when Mr. M got back from dropping off Boy9 on Saturday morning the first thing he says is, "No kids! Excellent! Now we can spend the whole weekend chasing each other around the house naked!"
Men.
(Although I suppose at my advanced age I could take that as a compliment.)
We had a great time with our friends on Friday night. T was able to keep his job even though they let 40 other employees go so he's a bit calmer these days.
We got to talking about our other friends from Spain who will be arriving the first week in August. D is German but got sick of the German lifestyle many, many years ago and moved to Spain where he opened a dental lab with a Spanish partner. There he met M, a lovely Spanish girl, and they married on the very same day and year that we did, which is a nice coincidence. They have two children a bit younger than ours and seem to be very happy together.
D is a total entrepreneur - a very
un
-German trait. First he had his dental lab and then went on to open up a very nice bar/bistro in the town he and M live close to. We visited them there once ages ago at Easter to enjoy the Semana Santa (the week leading up to Good Friday) festivities and spent a lot of time hanging out in that fabulous establishment.
But the bar and the dental lab weren't enough. They started looking around for another profitable business and stumbled across a great opportunity. So for the past few years D has been running a sex shop. Yup. You heard me. And it's booming. People are people wherever you go, I guess. Our friend K was joking on Friday night that when D and his family come up in August they should bring a bunch of free samples for us so we can see what's new in the Spanish love market! That should be interesting. And no, I will NOT be posting pictures!
Besides needing to sandblast the house from stem to stern in the coming week, I'm having another tiny little problem with the pending visit. 3/4 of our guests don't speak German and 4/4 of our family don't speak Spanish. Whee! There will be much waving of hands and feet. D and M and their son visited us before their daughter was born and we got along just fine so I suppose we'll survive all right. The kids may speak a little bit of German now, I don't know. D didn't take the bilingual thing very seriously, I'm afraid. But his mother in Germany speaks perfect Spanish so at least she can communicate with her grandchildren.
After three days of rain it's sunny again which will give me an chance to take some time out from running through the house naked and get some much-needed gardening done.
If you need me you will find me poking about in my petunias.