The Adventures of Super Carrot
This is part of the comic Boy9 made me for my birthday. Think he'll be able to support us in our old age?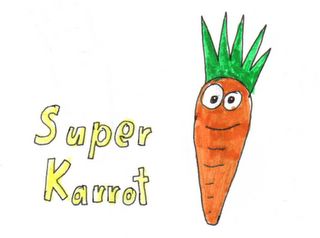 Our hero
Bad Cherry threatens to destroy Garden City. This looks like a job for Super Carrot.
Super Carrot foils Bad Cherry's dastardly plan.
Bad Cherry must explain himself to his master, Evil Eggplant (with banana dog). Will Bad Cherry succeed next time? Stay tuned.